The Pioneers
Green tech lights up 2015
24 September 2013
This year's Solar Decathlon LAC 2015, a global competition for sustainable construction based on solar energy, will be held in Cali, Colombia. The energy-producing dance floors developed by our pioneer Michel Smit will be a main feature, allowing the exhibition space to be energy self-sufficient for the whole of 2015.
Protecting the planet
Mots-clés :
Green Tech, Renewable Energy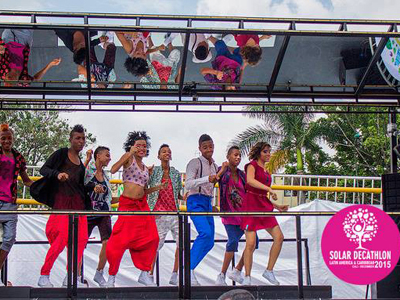 Dancers from Cali's school of salsa dancing will illuminate—literally—the opening evening; their dance steps will produce the kinetic energy required to light the competition space. The 16 university teams participating in this event in December will have to adapt to the needs of the local community and to the climate of the region in order to develop innovative and sustainable solutions using the best of solar technology. The purpose of this unique initiative is to promote energy alternatives to a population that is largely unaware of the issues related to sustainable development.
The potential impact of this event is huge, given that a quarter of global energy demand comes from the residential sector. With the Solar Decathlon and the COP 21 both taking place in December, 2015 is shaping up to be an exciting year for the environment.