The Pioneers
Quarnot at the global 3D summit
22 August 2016
Qarnot at the SIGGRAPH 2016, Anaheim CALIF
Protecting the planet
Mots-clés :
Fight against global warming, Green Tech, Pollution reduction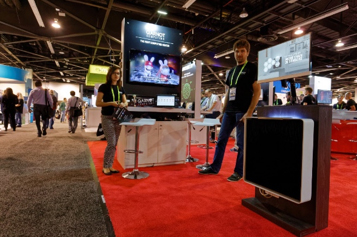 Qarnot presented their groundbreaking render farm (computer cluster) in Anaheim, California at SIGGRAPH 2016, a global event dedicated to the digital world. The Q.rad digital radiator-computer was on display in the Cap Digital space.
Many visitors and professionals at the event welcomed this original and disruptive innovation. The presentation of the "render farm that heats homes" at Exhibits Fast Forward, a pitch session held the day before the opening of the show, was also enthusiastically received by the SIGGRAPH public.