The Pioneers
A Shamengo intern in Cambodia
21 June 2016
Bruno Anes, a Master's student in Innovation at the University of Grenoble, is doing a 4-month internship at Samatoa, the company started by our pioneer Awen Delaval. Bruno offers his thoughts on this unusual work experience, organised in partnership with the Promising program.
Creating with ethics
Mots-clés :
Ethical fashion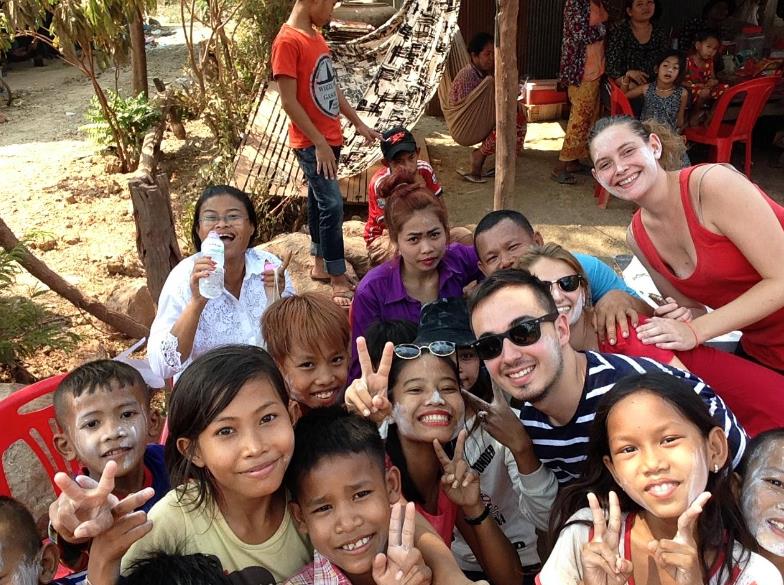 – How did you come to choose this internship?
Thanks to the partnership between the University Promising program and Shamengo and we had the opportunity to choose between three pioneers. My first choice was Awen Delaval's company, because I wanted to go abroad and work on an ethical project.
– Tell us about your arrival.
I arrived in early April and I was immediately immersed in the culture, as sales rep at the shop invited us to celebrate the Khmer New Year in his village. It was an unforgettable moment… the adventure had begun! Cambodians are very nice people, you don't feel any insecurity. You're welcomed very warmly—in fact we eat regularly with the seller's family. You interact with the local population, and, instead of being a tourist, you have the great opportunity of working with them.
– What's your role?
My job is to help Awen with the financial management of his business. Among other things, we've restructured the production costs of the lotus to identify what profits we could achieve and from what point we reach a certain profitability. We are also working on an important project, in partnership with the AFD. The aim is to unite all production on Lake Kamping Poy. This will, in 5 to 10 years, create 500 jobs in this area. The idea is to install a model workshop for weavers and spinners, whose activities will be integrated in the village. The current shop would become a showroom to sell only to wholesale buyers and designer brands.
– What is your day like?
I live at the shop. So there is no separation between private and professional life: I go out of my room and I'm in my office! Upstairs, there are 2 looms, 2 weavers and seamstresses. The lotus farm is located about ten minutes away by tuk-tuk. We give tours to customers and tourists who come to see this one-of-a-kind production process.
– What's your relationship like with Awen?
He is present, but he gives us a lot of autonomy, so that you really feel useful as an intern. Unlike a large corporate structure, it makes us really confident. I did things I had never done before, like reworking the shareholder pack or redoing all the production calculations. He really tries to integrate us into the country, let us know about the culture. The fact that we live together develops an intimacy; we form a little community at home and it is very interesting in terms of our exchanges.
– What did you learn here that you wouldn't have learned elsewhere?
Women have a predominant economic role, they're the ones who bring money home. At Samatoa, the workforce is all women and one employee with a disability. They are free to work as they wish and are able to manage the constraints they may have in their family life. The pace is very different from the large companies where I have worked before, where you could not say "wait." Here, the Cambodian's favourite phrase is "chamtick" wait a minute. It takes some patience at first, but then you get the hang of it. You learn to see things differently. This is really what I was looking for in coming to Samatoa and Cambodia. I'm happy to be in a company where the ethics are really irreproachable.
– What do you plan to do next?
The purpose of this work experience is to open our minds, to inspire us and to allow us to recognise all the difficulties that may be encountered in this kind of business, the constraints associated with it. Before continuing into the 2nd year of the MA, I want to go on a gap year with best friend, who is also doing a Shamengo internship in South Africa. Our idea is to travel through New Zealand for a year, then start a social enterprise with an ethical goal.
About Samatoa:
Samatoa is located near the city of Siem Reap (next to the Angkor temples). "Samatoa" means "fair" in Khmer. The company produces and sells clothing and fabrics in vegetable fibres, mainly made from lotus. Awen Delaval recently received the UNESCO Prize for "Serenity scarf", a shawl woven from a blend of silk and lotus. The scarf was also worn by President Francois Hollande and several French ministers at the award ceremony "France is committed to the South".