The Pioneers
La Boîte à Champignons joins the Shamengo Villa
04 May 2016
The Shamengo Villa restaurant menu will feature exceptional oyster mushrooms produced and harvested on site by Mushroom Box (la Boîte à Champignons). Nothing is lost, only transformed...
Caring for the mind and body
Mots-clés :
Healthy food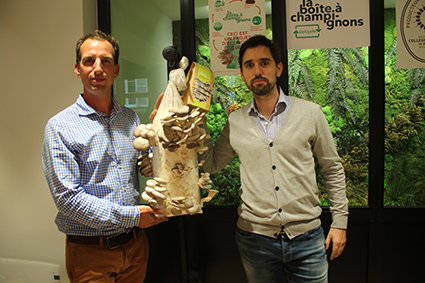 Grégoire Bleu and Arnaud Ulrich, co-founders of Mushroom Box (formerly UpCycle), have moved to develop the innovation of Shamengo pioneer Cédric Péchard, which involves recycling coffee grounds to grow delicious mushrooms.
In 2016 La Boîte à Champignons launched new "ready to grow" products, such as yellow oyster mushrooms in grow box or a growing kit for fans of DIY. An educational program will soon be available to offer tips to those wishing to recycle their own coffee grounds to improve their fruit and vegetable gardens.
Grégoire Bleu has issued the call to grow more tasty fungi: "Our soil, our homes, our cities need mushrooms." In the meantime, the company continues to grow. La Boîte à Champignons has now launched on the Italian market with www.fungobox.it, in partnership with Lavazza and an Italian social reintegration programme.

www.laboiteachampignons.com