The Pioneers
Low-tech odyssey!
03 March 2016
Corentin de Châtelperron has just set off in his catamaran made of bio-composite materials for a 3- year expedition around the world of low-tech. The Itinerary of a spoiled pioneer!
Protecting the planet
Mots-clés :
Fight against global warming, Green Tech, Pollution reduction, Renewable Energy, Sustainable mobility, Waste management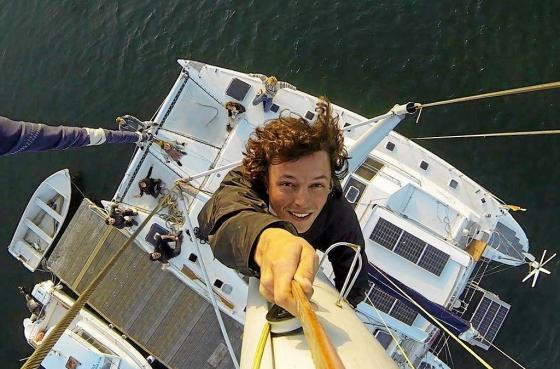 As you may have read on our blog a few months back, our pioneer and inventor of the jute fibre shell has spent recent years building the Nomad of the Seas, a 14-metre catamaran constructed from bio-composite materials and fitted out to be 100% low-tech. On February 23, 2016, Corentin and his two crewmates began their odyssey, leaving the port of Concarneau, France.
During 36 months, the crew will experiment with techniques that use minimal materials and energy. Objective: To achieve complete autonomy in water, energy, food and materials. They've scheduled fifteen thematic stops to meet environmental innovators:
France: bio-composites
Morocco: desalinization
Cape Verde: hydroponics
Senegal: green coal
Brazil: biofuels
Madagascar: spirulina
South Africa: aluminium recycling
Mozambique: wind farms
India I: biogas
India II: Stirling motor
Sri Lanka: plastic pyrolysis
Thailand: entomophagy
Malaysia: purification by microalgae
Indonesia: aquaponics
Follow the adventure: www.nomadedesmers.com