The Pioneers
Recharge your batteries, anytime, anywhere!
13 January 2016
In France, battery-charging bikes are popping up in a number of SNCF train stations. These machines, which facilitate our nomadic lifestyles, are being installed in city centres... A good time to revisit our Shamengo pioneer Georgie Delaney, the brains behind this ingenious concept.
Caring for the mind and body
Mots-clés :
Physical well-being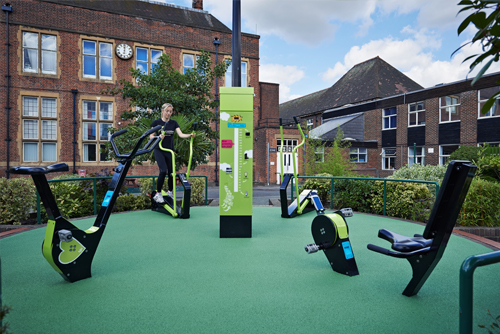 The first outdoor gym equipment appeared in China in the 90s. Georgia Delaney was inspired by this trend to realise her dream: to recover human energy and use it wisely. After 4 years of R & D, her company TGOC (The Great Outdoor Gym Company) managed to make outdoor fitness equipment that was greener, more sustainable and more secure.
The green energy" range "now includes 4 models of fitness machines that allow users to be physically active while charging the batteries on smartphones, laptops and tablets. The production plant based in Newcastle (England), serves many municipalities, schools and businesses in the UK and internationally.
In France, an indoor version developed by the Belgian company WeWatt is being featured in rail stations. Connected to an interactive stand, bike-Webike terminals allow travellers to charge their devices by exercising. They are built of recycled materials and assembled by people in social rehabilitation programs.
Paris, Lille, Nantes, Strasbourg, Lyon … In the space of two years, SNCF has equipped twenty French stations with the equipment. In December 2015, the Benedictins station in Limoges welcomed these unusual machines. Building on its success, the SNCF plans to develop the concept throughout France. At this rate, "pedalling" could soon become synonymous with recharging your batteries!