Press review
Shamengo at Cité de l'océan in Biarritz
13 January 2016
Friday, December 18, 2015, a week to the day after the close of COP21, the Shamengo team was in Biarritz to attend a round of conferences on climate change organised by the Cité de l'océan.
Protecting the planet
Mots-clés :
Fight against global warming, Pollution reduction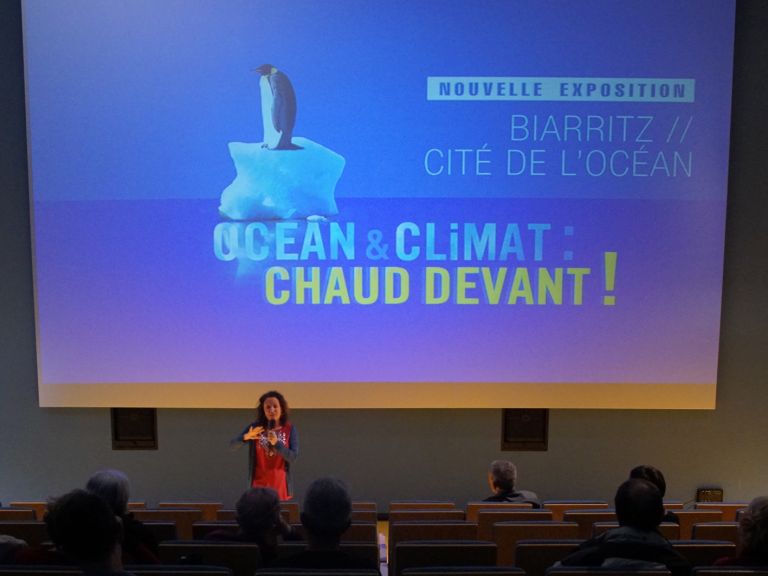 As part of its new exhibition "Ocean and Climate: warm front", scheduled for November 20, 2015 to December 31, 2016, the Cité de l'océan invited Catherine Berthillier to present the Shamengo community and the pioneers working around the world to preserve the planet.
The objective of the Cité de l'océan was to feature an actor from civil society advancing the fight against global warming. The founder of Shamengo revisited the success of the "Villa Shamengo" stand at the at COP 21. She also presented the flagship project for the year 2016: the construction of the first Shamengo smart villa in Bordeaux, France.
"Many Shamengo pioneers are providing innovative, sustainable solutions to preserve our water resources, repopulate coral reefs, recycle marine litter or purify water in a more environmentally friendly way," Catherine declared. Among them, the association Du Flocon à la Vague is doing important work in raising awareness among citizens, institutions and companies, in particular with the Odyssey project: a cultural and scientific adventure that follows the journey of a drop of water from snowy peaks to the deep blue sea.
During the conference, Claire Ripert, communications director of the city of Biarritz and Peggy Bergeron, head of the Ocean and Environment service, did not fail to note that the municipality is very committed to the protection of marine life and oceans, in particular with the Biarritz Ocean centre which includes two educational sites: the Aquarium and the Cité de l'océan.
Already in June 2013, the friendly people from the Cité de l'océan invited Shamengo to attend World Oceans Day.
To know more about the Cité de l'océan: www.citedelocean.com