Press review
Fixer un inconnu dans les yeux pendant une minute ?
14 October 2015
Shamengo vous propose de venir vous essayer à une expérience qui sort de l'ordinaire : se regarder dans les yeux à l'occasion du « The World's Biggest Eye Contact experiment »
Caring for the mind and body
Mots-clés :
Psychological balance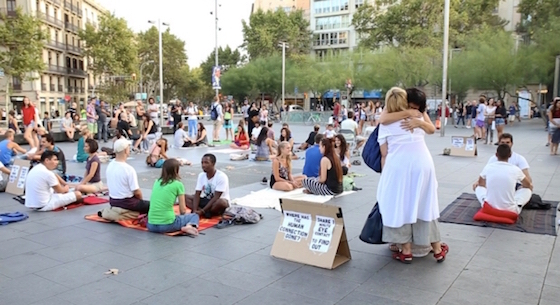 Les yeux sont le reflet de l'âme…
Le 15 octobre à Paris, Place de la République, plus d'un millier de personnes vont se réunir pour… se regarder dans les yeux.
Maintenir un échange de regard avec un inconnu pendant une minute, c'est la promesse d'une expérience inouïe à laquelle le mouvement « Liberators International » nous convie. Se regarder dans les yeux sans se parler, voilà l'unique consigne. Reconnecter les gens à travers le regard, ce n'est pas si simple… Et pourtant ça fait du bien.
Si vous voulez tenter l'expérience, rendez-vous place de la République de 18h à 20h pour participer à cet évènement. Retrouvez toutes les informations ici .