Press review
Take part in the COP21 with Shamengo
09 October 2015
No need to wait—join our team for your first challenge: the construction of the Shamengo Villa in le Bourget!
Protecting the planet
Mots-clés :
Biodiversity protection, Fight against global warming, Green Tech, Pollution reduction, Renewable Energy, Sustainable mobility, Waste management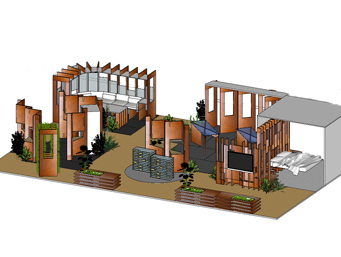 The organisers of the COP21 have entrusted us with 150m2 in the "Civil Society Village" to offer the 50,000 visitors expected at le Bourget a glimpse of the world of tomorrow.
We will be showcasing the innovations of our Shamengo pioneers as part of an exhibition about the home of the future.
But that's not all! The concept goes well beyond a simple expo booth. We want to implement – with concrete actions – our set of values: caring for mind and body, creating with a conscience, protecting the environment and taking action to help others.
The creation of the Villa will be a collaborative effort. Young or old. A strong pair of hands or a talent for problem solving. Student, employed, unemployed or retired: you all have what it takes to help with this special mission—and to work with a team of dynamic, creative, ultra-motivated people to boot!
Yes even you, there … we see you in front of your screen! You're saying to yourself: "I'm just an average person, I don't see how I could possibly make a difference on a project of this size" … Exactly, that's the whole idea: show everyone what the power of a group can accomplish! So don't be shy, just sign up!
Our architects, landscapers, engineers, computer scientists, speakers, translators, guides and artists are counting on you to help them carry out this mission.
In a few days, you'll start to see videos and photos on our social networks following the construction of this one-of-a-kind site.
"Be the change you want to see in the world." (Gandhi)
To take part in this challenge,

click here