The Pioneers
High-flying pioneer on the move to help birds
06 May 2015
Christian Moullec is still in 7th heaven, daily living the dream of human flight! This ornithologist's initiative to support migrating birds has even attracted the attention of city government in China.
Caring for others
Mots-clés :
Animal welfare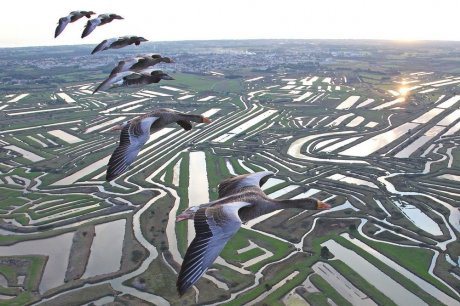 Our high-flying pioneer has been invited by Chinese officials in the province of Shan Dong to fly over their skies in September 2015. The authorities hope to educate area residents about the importance of preserving the environment, and Christian's symbolic flight would support this effort.
Christian typically accompanies geese along their migration routes. But this time, he plans to fly with cranes, which are a symbol of loyalty and longevity in Taoism.
Over-industrialization of the environment has greatly disrupted the routes of migratory birds, and as a result there has been a decline of these mighty travellers. Christian's flights and his outreach work are essential to raising awareness of the problem. Next week, our pioneer will land in Cannes to offer movie producers a script for a 3D film about these birds. Stay tuned…