The Pioneers
Nash or the art of sharing
01 April 2015
The designer Heath Nash has taken a new artistic turn by getting involved in a social project with Maker Libraries. This network of co-creation spaces brings together architects, designers and DIYers who want to share their creativity.
Creating with ethics
Mots-clés :
Eco-design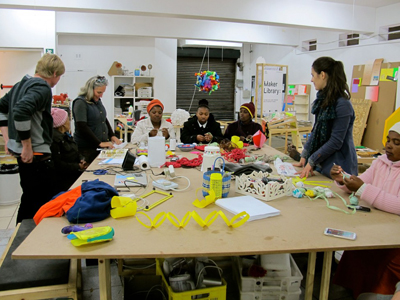 Heath used to spend his time buying tons of waste to turn into works of art (portrait link). For the past two years, he's sought to give a second wind to his entrepreneurial activity by working with several South African artisans. The experience sparked his desire to share his artistic knowledge and pass it on to others on a larger scale.
Heath is launching himself into open source design by joining the Maker Libraries Network operating Cape Town, London, Edinburgh or Glasgow. Our pioneer is the resident specialist in using waste as raw material for crafts and design projects. This international network consists of spaces for reading and inspiring activities centred around making objects.
Participants can create their own "library-factory" with the kit provided by the collective, which includes a study of the costs involved in the project, a practical guide and books about creation. A documentary collection about open design, regularly fed by librarian DIYers, is available on an online platform.
Heath can now encourage the artistic development of South African local communities by supporting their original creations or sharing their knowledge through this global network. In the future, these activities could also be used to generate income for some artisans.
To see what the famous Maker Libraries look like, check out: http://makerlibrarynetwork.org/makerspace/