The Pioneers
Lights out to help the planet!
25 March 2015
Saturday, March 28, for 9th-annual Earth Hour organized by WWF, Parisians are invited turn off their lights from 8:30pm to 9:30pm as a gesture of solidarity in the fight against global warming.
Protecting the planet
Mots-clés :
Green Tech, Renewable Energy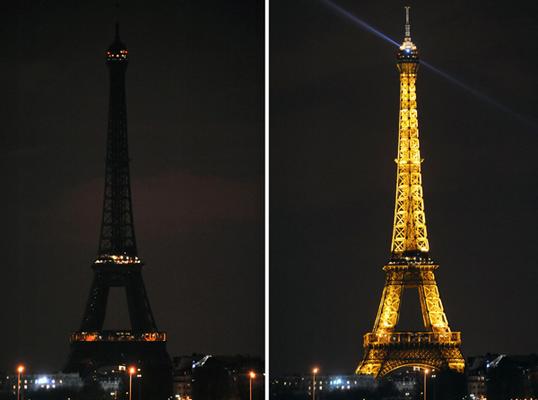 Paris will be turning out the lights in more than 200 locations (among them Hôtel de Ville, Opéra Garnier, and Parc des Princes) across the city for one hour.
The lights of the Eiffel Tower will also go out, but only for five minutes, for security reasons. Our pioneer Michel Smit is taking advantage of this opportunity to install his incredible energy-producing LED dance floor at the foot of Paris's most iconic monument.
Following the success of the 2014 Earth Hour, which galvanised nearly one billion people from more than 164 countries, this great environmental movement started by WWF has tapped into all their social networks. And in recent days, the citizens of the world have been mobilising their energy to get the lights turned out in the world's biggest cities.
From now until Saturday you can participate by turning off one of the lights on the Eiffel Tower at: https://earthhour.paris/
Follow this international mobilisation via the Twitter newsfeed #yourpower #earthhour or on the event's official Facebook page.