Shamengo Team
Join the slow wear revolution!
20 June 2013
With deplorable conditions and tragic worker deaths in the garment industry making headlines and the frustrating opacity of the clothing production chain, people are looking for a way to make responsible clothing choices. The slow wear movement offers an alluring mix of simplicity and ethical engagement.
Caring for the mind and body
Mots-clés :
Physical well-being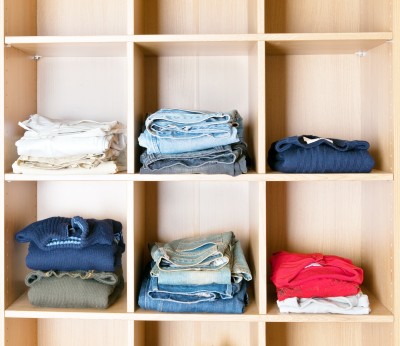 Slow wear, or how to dress sustainably
In an era of fast fashion that sees stocks change on average every 2-6 weeks in large clothing chains, consumers are beginning to tire of the manic rhythms of the market. Fashion tends toward uniformity; the clothes we buy are poorly made, on the other side of the world; they often contain chemicals that are toxic to humans and the environment. The model of quantity over quality is starting to unravel.
Slow wear is a different way of understanding consumption. It's about buying less but buying better. Instead of cheap, trendy clothing made in China, slow wear supports products made in countries with fair manufacturing processes, using natural fibres, in basic cuts and colours. In short, it's about buying pieces that can be worn for many years because they don't fall apart with the first wash and they don't go out of style. It's about investing in a sustainable wardrobe.
Slow wear: a simplified wardrobe
Dominique Loreau in her book « l'Art de la simplicité » recommends shying away from the eccentricities of fashion, instead building up a simple but stylish wardrobe. She advocates the rule of seven: 7 outwear pieces (raincoat, jacket, winter coat), 7 tops (t-shirts, blouses, pullovers), 7 bottoms (trousers, jeans, skirts, dresses), 7 pairs of shoes and a few accessories to harmonise the lot. Her golden rule: get rid of everything you haven't worn in a year!
People are increasingly concerned about where their clothing comes from, if it is manufactured in compliance with Fair Trade principles, if it is made from eco-friendly materials (e.g. organic cotton, wool, alpaca, natural silk, hemp,) and manufactured with maximum respect for the environment. With slow wear, consumption becomes an act of engagement, a commitment to ethical fashion that puts human welfare and the environment first.
In the current market, consumers who want to purchase ethical products and join the slow wear movement are advised to avoid big multi-national brands in favour of independent designers, to buy clothing made in countries with fair and transparent working conditions, or to shop in boutiques that specialise in ethical brands. The Guardian's online Ethical Fashion Directory is a useful guide. For inspiration, Isabelle Quehe's annual Ethical Fashion show showcases a range of high-fashion, eco-friendly brands.
Resisting the allure of cheap, trendy high street clothing and opting for a simpler wardrobe is one way to express ethical commitments through consumer choice. For those who aren't convinced the minimalist look is for them or who can't afford the prices at specialised boutiques, second-hand or upcycled clothing is another option.
Refashioned clothes or clothes made from waste materials are becoming widely available. From reworked furs to dresses made from parasails, shoes made from old tires and bags made from sacks of fish feed, designers are responding to the consumer demand for ethical, sustainable products and changing the rules of the fashion market for the better.
With our friends at : greenetvert