The Pioneers
In India, an inclusive festival of colours
03 March 2015
For the Hindu celebration of Holi, our pioneer Bindeshwar Pathak (through his NGO Sulabh), once again broke a taboo by inviting socially-ostracized widows to participate in this 'festival of colours'.
Caring for others
Mots-clés :
Empowerment/Women's rights, Equal opportunities and social cohesion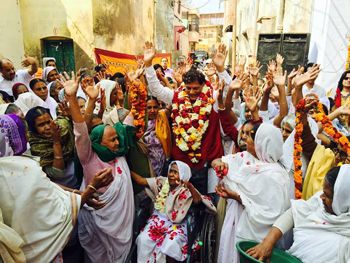 Holi crowns the arrival of spring and fertility and provides an opportunity for Hindus to enjoy three days of celebrations. It is a moment of national unity, but not everyone is invited.
In most parts of India, widows are routinely excluded from any joyful celebration because they are considered dead after the death of their spouses. Restricted by an austere life, they wear white saris and are deprived of the right, in the eyes of society, to remarry or start a new life.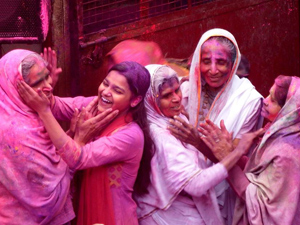 1,000 widows from the cities of Varanasi and Vrinndavan were able to participate in the Hindu celebration of Holi this year with Dr. Pathak and members of his NGO. They joined the bustle of streets brimming with music and dancers. And, as the colourful photos show, many widows availed themselves of the 1,000 kilos of 'Gulal' offered by Sulabh. These coloured pigments thrown at passers-by are considered by some to be symbolic of renewal, vitality, optimism, love, fertility and faith.
Our pioneer continues to challenge India's social caste system and all forms of social marginalisation.