Press review
Bust a MOOC and become a changemaker!
18 February 2015
Starting February 24, Ticket for Change & HEC Paris - in partnership with Shamengo - invite you to participate in the MOOC "Become an Entrepreneur of Change", which centres around great figures of social entrepreneurship.
Creating with ethics
Mots-clés :
Collaborative economy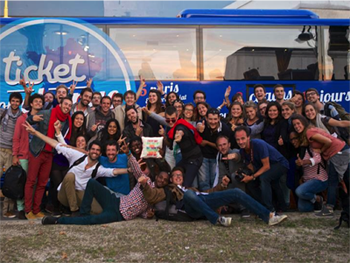 Awaken your potential to become an entrepreneur of change with this online course designed by professors from HEC – one of the world's top management schools – and based on the unpublished first-hand accounts of pioneers such as Muhammad Yunus, Pierre Rabhi and the CEO of Danone. The course will be taught in French with English subtitles.

This MOOC, divided into seven sessions, offers concrete ways for participants to make a difference and become changemakers. In the first week of the course, the spotlight will fall on our Shamengo pioneers, whose stories course organisers hope will inspire students to realise exceptional initiatives of their own.
It's an educational experience that will bring together nearly 20,000 participants. Join in live on the evening of the 24th for the MOOC launch reception with Ticket for Change members and professors from HEC.
Find out more at: https://fr.coursera.org/course/entrepchangement.