The Pioneers
"Solar Cooker" takes its place in the sun
18 February 2015
In Bombay, the Guinness Book of Records has just documented the largest ever number of solar ovens used at a single gathering. It's a commendable event, supported by our pioneer Beverly Blum.
Caring for others
Mots-clés :
Empowerment/Women's rights, Equal opportunities and social cohesion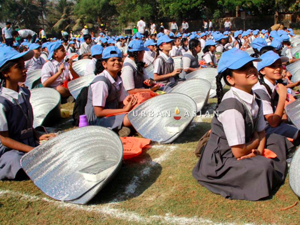 Conceived by a local social action organisation, more than 1,500 students from 80 schools in Mumbai took up this challenge to deliver a powerful environmental message: solar energy is the best way to fight the depletion of natural resources. In developing countries, coal and wood are still the most common fuels used for cooking.
Dr. Alka Mande, one the event's organisers, explained that the effort was part of a broader campaign: "We need an army of leaders who can think differently, create an innovative rupture, and adopt new behaviours to build a sustainable and happy future."
The commitment of these young people is impressive; they had to contribute up to four euros toward the cost of their solar oven, or two days' average wages in India.
After the record, each student was able to walk away with their own oven and a mission to inform their families about solar energy.