The Pioneers
Awen Delaval partners with ethical accessories brand
11 February 2015
The year is off to a good start for our pioneer Awen Delaval - creator of a unique fabric made from lotus - who has just secured a partnership with the ethical jewellery brand Novoda.
Creating with ethics
Mots-clés :
Ethical fashion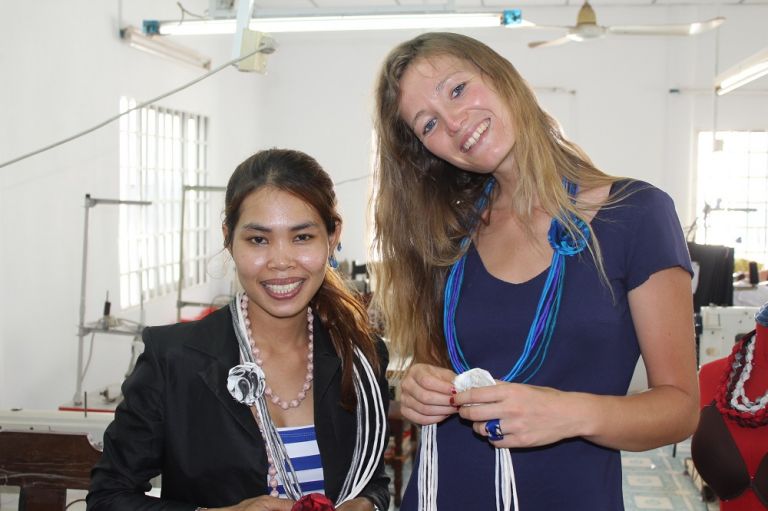 With this new collaboration, the Samatoa weaving cooperative is greener than ever. Jewellery stylist Elodie Guillerm uses the whole of the lotus plant to create her striking designs. Even the seeds are used—delicately covered in silk—as a design element in the necklaces and bracelets from the Nodova Mekong collection.
These artisans share a vision of entrepreneurship that is social, ethical and eco-friendly. Together they promote women's employment and schooling for children.
Awen shows no signs of stopping: he's just acquired 2,000 additional hectares of lotus. Our pioneer also buys lotus stalks from farmers, and he sells lotus flowers to pagodas where visitors can purchase them to make offerings.
"This new field represents a huge potential for us, a new point of supply. Currently, we're training around 10 new spinners." Eventually 50 new jobs will be created.
For those wishing to see Awen's enterprise in action, it is now possible to experience the whole production chain—the cooperative, the manufacturing facility and the sales outlet—at the same site in Siem Reap, Cambodia.
Find all the latest news on their Facebook pages @Samatoa and @Nodova.