The Pioneers
A powerful tribute
14 January 2015
New-York born artist and Shamengo pioneer Spencer Tunick paid tribute this week to the victims of the Charlie Hebdo massacre with two photos, accompanied by the message 'Vive la liberté! Vive la France!' The photos depict female nudes along with traditional symbols of the French republic: the French tricolour flag and the Tour Eiffel.
Creating with ethics
Mots-clés :
Civic action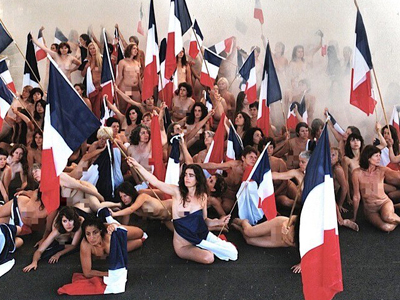 The photo below pays homage to Eugene Delacroix's famous work Liberty leading the People, an emblem of the French Revolution. Spencer has used this gesture to affirm his freedom as an artist, as a way of defending freedom of expression.
Provocation is the trademark of Spencer's work, which attempts to change people's perception of everyday life. His group nudes—which emphasise the body in its natural state—offer a critique of the culture of excess and invite people to reflect on freedom of expression, whether physical or intellectual. The artist reminds us of our fundamental humanity, which is without race, nationality, or religion.
It's an artistic provocation in keeping with the spirit of Charlie Hebdo.