The Pioneers
Street refrigerator for the homeless
14 January 2015
An outrageous initiative was launched last week in Schaerbeek, Belgium. Our two Belgian pioneers who created the Homeless Man of the Year (Mr. SDF) competition have created a new project aimed at ensuring adequate nutrition for the homeless and helping them to feel less alone: a street refrigerator.
Caring for others
Mots-clés :
Equal opportunities and social cohesion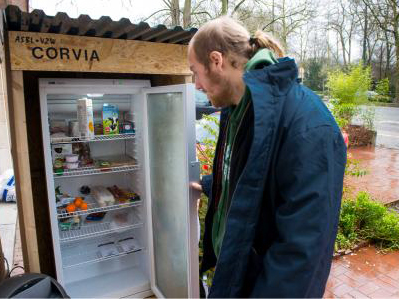 The community refrigerator is a response to two major societal problems: hunger and food waste. Neighbours and local businesses (bakeries, butchers, restaurants) are encouraged to donate food to the community fridge, giving back to their communities and helping the environment by reducing food waste. The refrigerator would be permanently installed in the street so that those in need would have access to food at any time of the day or night. Prepared dishes would include an obligatory label detailing the ingredients, the date of preparation, and the serving suggestion. This clever initiative is designed to forge social links while creating a sense of solidarity.
Why not expand the idea to other cities?