The Pioneers
20 years of laughter!
22 December 2014
The Clowns Without Borders (CSF) organisation founded by our acrobatic pioneer Tortell Poltrona, celebrated its twentieth anniversary on December 20 with three birthday parties in Lille, Paris and Marseille.
Caring for others
Mots-clés :
Democracy/Human rights, Assistance/Children's rights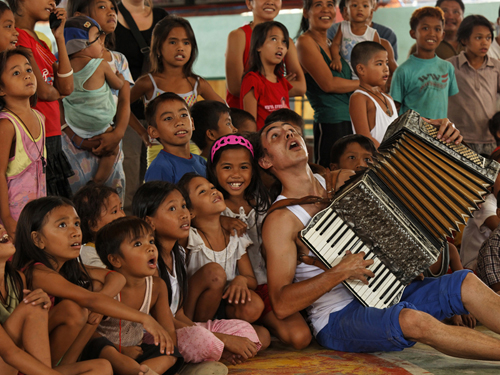 Jaume Mateu, better known as Tortell Poltrona, is a legend in the circus world, recognised well beyond the borders of his native Catalonia. His NGO now operates twelve associations throughout the world, grouped together under the International Federation of Clowns Without Borders. Every year, performances are organised for over 20,000 child refugees, sometimes in conflict zones like the West Bank and Gaza.
For the past twenty years, CSF has been working with NGOs such as Doctors of the World and Doctors Without Borders to bring laughter to homeless children, refugees and the rest of the world. They've spent 20 years transcending the differences between countries, ethnic groups and religions using the power of gesture and facial expressions.

This laughter therapy employs performance to improve psychological care for child victims of wars and social exclusion.