The Pioneers
Joe Mangrum's ephemeral artworks coming to your city
26 November 2014
Following the success of his ephemeral art installations in the streets of New York, Joe is taking on the new challenge of exhibiting permanent works in major cities around the world.
Creating with ethics
Mots-clés :
Eco-design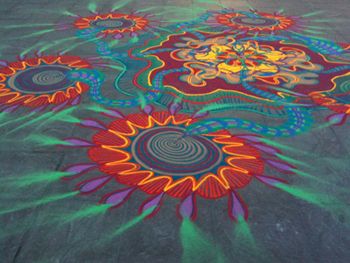 Our pioneering artist has launched a crowdfunding campaign! With your help, he hopes to exhibit a minimum of 12 permanent works, in San Francisco, Buenos Aires, Rome, Berlin and Moscow … and of course Paris.

Joe's sand drawings are born in the hollow of his hand and usually enjoy just a few minutes of life. His movements convey the passing emotions of a moment and invite us to reflect on our place in the world as well as our interconnectedness.
In the heart of the city, Joe invites passers-by to take a journey, meditatively, creating a connection between what they see–a work they can touch–and their emotional response to it. People are encouraged to let go and open themselves to universal feelings.
Our pioneer hopes to export this means of playful contemplation to connect more people in the great cities of the world. Participating in the campaign brings abundant rewards, including of course beautiful works of art. Visit Joe's Kickstarter page to learn more.