The Pioneers
10 years of Lady Mechanics
19 November 2014
Who would have thought 10 years ago that the Lady Mechanics Initiative (LMI), the brainchild of our Nigerian pioneer Sandra Aguebor, would be blowing out so many candles this week? These training garages help to reintegrate women into society, including many who have suffered the humiliation of prostitution.
Caring for others
Mots-clés :
Empowerment/Women's rights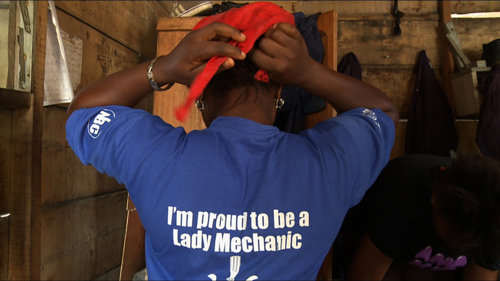 With the philanthropic support of national and international foundations, donations and volunteers around the world, LMI helped to bring hundreds of women out of poverty, prostitution and social exclusion, training a total of 700 women mechanics. Now employed in international garage chains or owners their own businesses, these young women sustain the project and make it prosper. Beyond their professional success, these women have regained their self-esteem and hope.
A testament to the success of this social enterprise, Nigerian President Jonathan GoodLuck along with national ministers, senators and local and foreign ambassadors will pay tribute to these women and to Sandra's initiative.
LMI has many admirers outside of Nigeria, and some Western countries have taken Sandra's lead to offer 100% female garages, like the "Only Girls" garage in Ile-de-France. The stated aim is to fight against machismo, particularly the practice of 'ripping off' female clients who are seen as less knowledgeable. We'll let you be the judge!