Press review
Barcelona lauches high-tech, self-service scooters
30 May 2013
Barcelona is launching a rental service for upscale electric scooters equipped with 7-inch GPS navigation screens. Their smart, user-friendly design and small carbon footprint make these scooters a promising urban mobility solution.
Caring for the mind and body
Mots-clés :
Physical well-being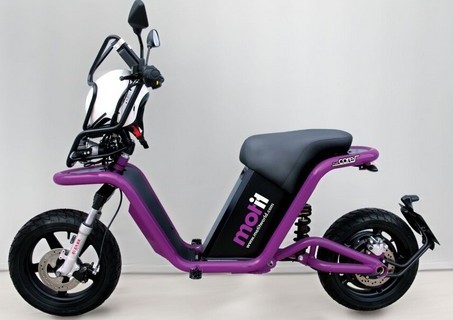 GPS revolutionizes self-service
The Spanish company Going Green announced the launch of Motit, a sharing program for electric scooters that will be unveiled in Barcelona before branching out to other cities.
In addition to their original and minimalist look, the vehicles developed by Going Green offer technological innovations that could revolutionize the principle of self-service.
Their main advantage is the presence of a built-in GPS, which both pinpoints the location of each unit and guides the driver. Scooters are also able to communicate with the smartphone user to initiate and finalize the hiring process, without the need to for a central terminal. And there's no need for an ignition key either!
Inexpensive rentals
When booking, users simply specify departure and arrival points, and an algorithm locates the nearest scooter. The flexibility of this system allows Motit to offer a range of extremely competitive rates to users. Rentals can be charged according to the distance travelled at 40 cents per kilometer or at an hourly rate of 5 €. Reduced rates may also be available for journeys made on a regular basis, and the company offers fixed rates for designated tourist routes.
Motit is launching with 50 scooters, but the fleet is set to include 300 units by the end of the year. This figure will rise to 500 in 2014 and could reach a maximum of 2500 vehicles.
Employees on two-wheelers are currently charged with replacing batteries in the scooters, but this task will soon fall to users when charge points have been installed in the streets.
Each vehicle is supplied with a helmet and insurance, and leasing is open to anyone over 21 years holds the appropriate license.
Rewards for walking
To maximize the use of its fleet, Going Green offers discounted prices for users willing to drop their scooter at a slightly different point from their destination.
"If you go from point A to point B, but the next customer wants to remove the vehicle at point C, we suggest you leave it at point C in exchange for an immediate reduction or even a free journey in the future," says the company.
In such cases, the leg of the journey to be made on foot is less than 300 meters.
Before the summer, Going Green plans to implement a similar service in Valencia, the Balearic Islands and Las Palmas de Gran Canaria. The company also plans to export its system to France, Germany, Italy and university campuses in the U.S..
Via our partner Green et Vert