The Pioneers
ReWalk exoskeleton approved for residential use in USA
21 October 2014
In 2001, Amit Goffer created the ReWalk exoskeleton, which allows paralyzed people to walk again. With this advanced support structure, users can regain the capacity to walk independently, after a period of training. This revolutionary system is now available to American and Canadian homes!
Caring for the mind and body
Mots-clés :
Medical Innovation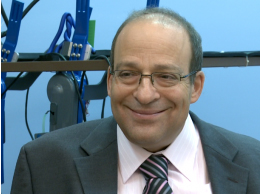 For many years, use of the ReWalk system was limited to rehabilitation programs in American hospitals. But the FDA's (Federal Department of Health) recent decision authorises communities and individuals to make use of the "ReWalk Personal" machine.
It's a milestone that will dramatically change the lives of wheelchair users, allowing them to gain independence and to move and travel more comfortably.
In recent days, Canada has followed suit and Canadians can now purchase the ReWalk from American retailers.