The Pioneers
A student's travel diary in Cambodia
25 April 2014
Today, it's Chloé's adventures at Philippe's home in Cambodia that we relate !
First steps in the khmer land…
Grenoble-Lyon-Paris-Ho Chi Ming- Siem Reap. Finally, I take my first steps on the Cambodian land. The heat is wild and the tiredness at its pick. Thank god Philippe si there at the airport to welcome me !
I arrived just on time for the khmer New Years: Philppe first wanted me to get in the country's atmosphere. During these three-day celebration, all the Siem Reap's outskirts inhabitants came to town. Even the poorest families living in the countryside made the journey over. The roads leading to the Angkor Temples are so busy you can hardly see what's ahead.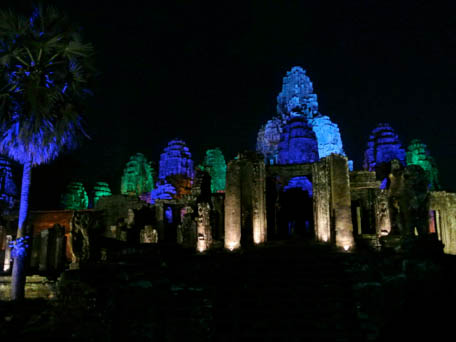 This latter have been lit and old khmer villages were reproduced nearby. New Year isn't only a traditional celebration for the Cambodian people, it is above all a family reunion.
Cambodinans are very open minded as well as generous. Always happy to welcome a "Barang" (a foreigner), they always make sure I'm at ease. Food is delicious ! Everyone can find what they're looking for: chicken, beef, seafood, frogs…
The temperature is close to the 40°C, with a humidity level that touches the 80%: let's say the shock was violent, to say the least.
Every morning, I ride the bike Philippe lent me and I go to the JayavArt workshop. While Philippe is working with his staff, I take care of the managment with his assistant, Sarim.